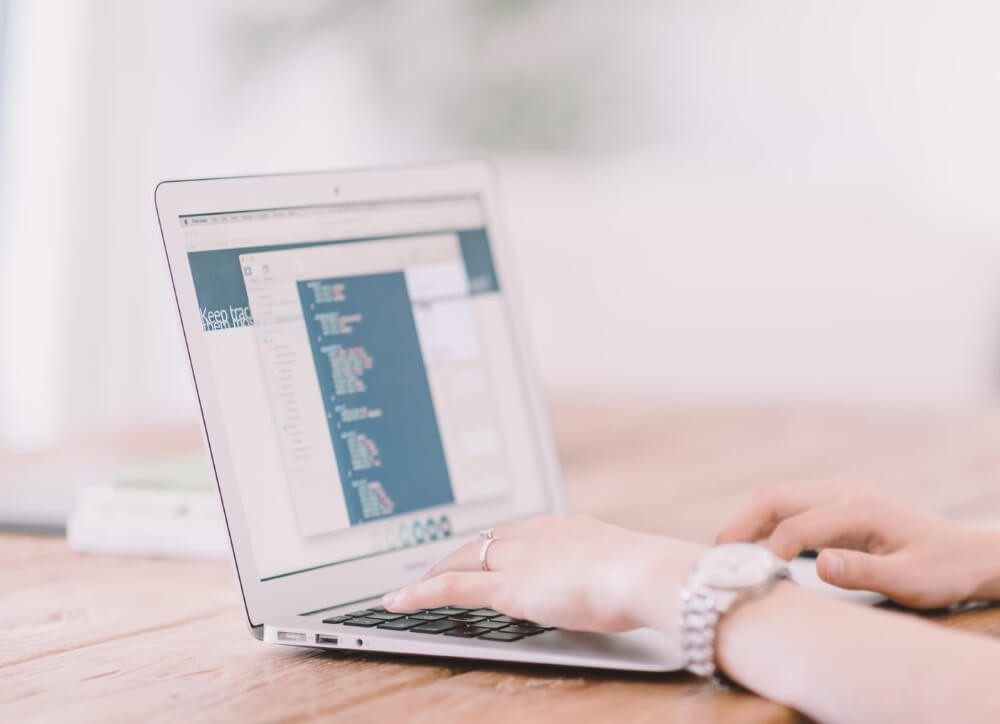 When it comes to business promotions, digital marketing has evened the scales for startups and big enterprises. Your marketing strategy will lead the results now and the marketing budget will be secondary. However, the efficiency of your strategy is very much dependent on the tools that you use for the implementation. Several digital marketing tools deserve your serious consideration in this regard.
Top 10 Marketing Tools for your business in 2022
Digital marketing can be an expansive strategy that requires consistent efforts to pay off in results. However, at each phase of the marketing process you have to balance intelligence and creativity to come up with a workable solution.
To accomplish the most tasks within a short range of time, you have to be able to automate some of them.
Digital marketing tools work on all these parameters. You can use the tools for research intelligence. They can also be the source of ideas for creating posts and relevant social media promotional content.
You can also depend on digital marketing tools to automate the repetitive tasks of curation and distribution of the social posts according to a pre-decided schedule.
Here we have curated a list of 10 digital marketing tools that are the most influential tools in their categories.
You can learn more about their advantages and features in details to choose the ones that best suit your digital marketing strategy
Let's dive right in!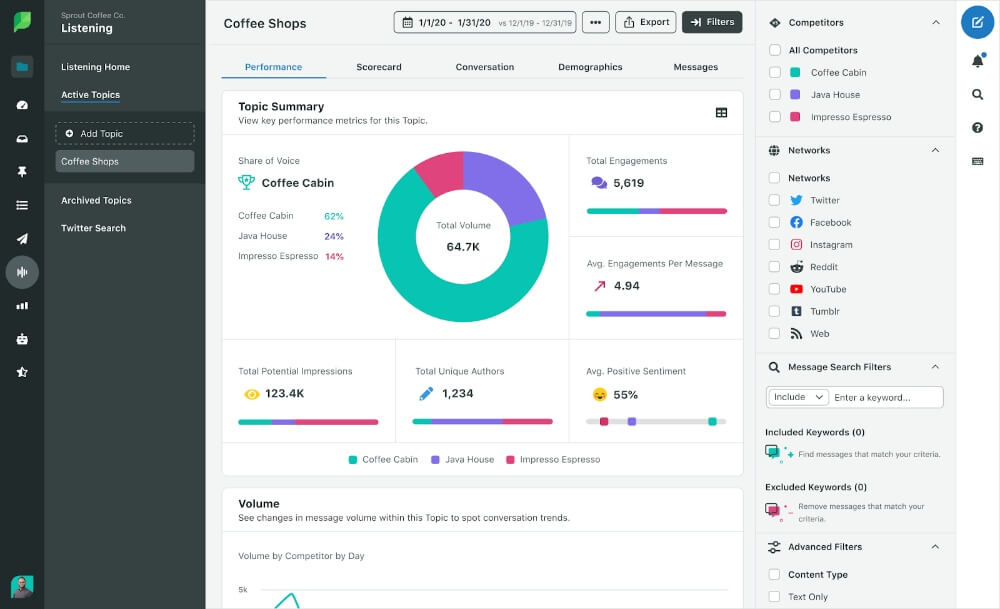 The core of a successful social media strategy is in the communication and Sprout Social gives you complete control of all your social media communication from a single interface.
Now you can communicate with your customers, track your social media posts, respond to comments and collaborate with other projects without ever leaving the single command center.
Sprout social tracks keywords and brand mentions across several social networks to compile your response protocol for your overall social media strategy. You can use its advanced analytics feature to track the performance of different campaigns.
The results can reveal which campaigns need more budget allocation and the ones that you can retire early.
You can also schedule your content distribution across multiple social media platforms.
The Sprout Social platform offers a free 30-day trial period. The paid plans start from $89 per month and can go up to $249 per month.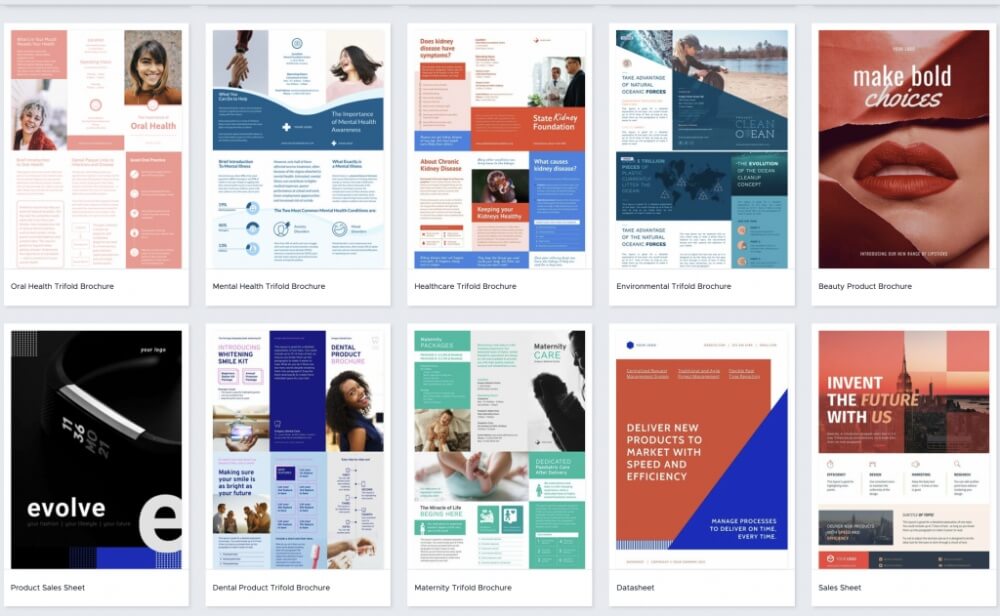 Most consumers react better towards visual content. If you are looking for a tool to automate your visual content creation, Piktochart is your best bet.
This tool allows you to transform raw data into visually impactful reports, interactive infographics, and presentations and print options from a single interface.
You can create eye-catching marketing collaterals to add value to your current promotional events. In addition, for each of these aspects, you can find ready to use templates in the tool that can cut your effort time by a wide margin.
Take your pick from brochure examples and infographic formats and design the content according to the format. You can customize all collaterals from Piktochart by integrating your brand image or logo within the design.
Piktochart is free to use for up to 5 active visuals and the paid plans start at 84 USD charged per member annually.
3. HappyScribe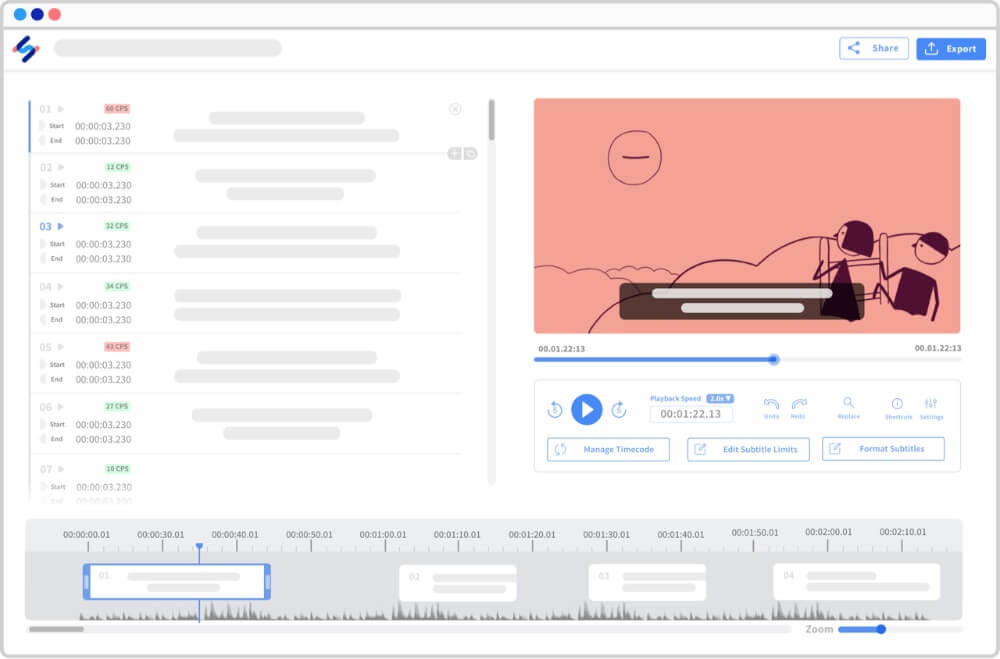 To truly optimize your video content for a multicultural audience, subtitling can be your biggest advantage.
However, you do not have to manually slog at your keyboard to add the subtitles for every video that you produce. Instead, you can pick up Happy Scribe's audio transcription tool to get all your video transcription and subtitles completed from within a single platform.
The tool is powered by A.I and has a team of superbly trained language professionals to offer the services in two formats. You can try the service for its automatic and Human-made versions.
The Automatic version is powered by A.I and it offers an accuracy rate of over 85%. The Human-made format is priced higher and it offers a 99% accuracy guarantee.
You can add credits to your Happy Scribe wallet and pay as you use the service. The wallet is only charged for the length of each video.
Ahrefs can drive your entire competitor analysis strategy. The amount of information you can get by running a competitive analysis on Ahrefs is incomparable. You can conduct a backlink research, keyword research and content gap analysis with your competitors to prepare your own marketing game plan.
The tool is also good for tracking website ranks and monitoring for any new strategy. It has a very easy to use interface. It also has the most efficient keyword research tool compared too many other tools in the same category.
You can check out the tool for a 7-day trial period at only $7. Post that, you will have to opt for a paid plan ranging from USD 99 to 999.
There is a plan fit for every marketing budget.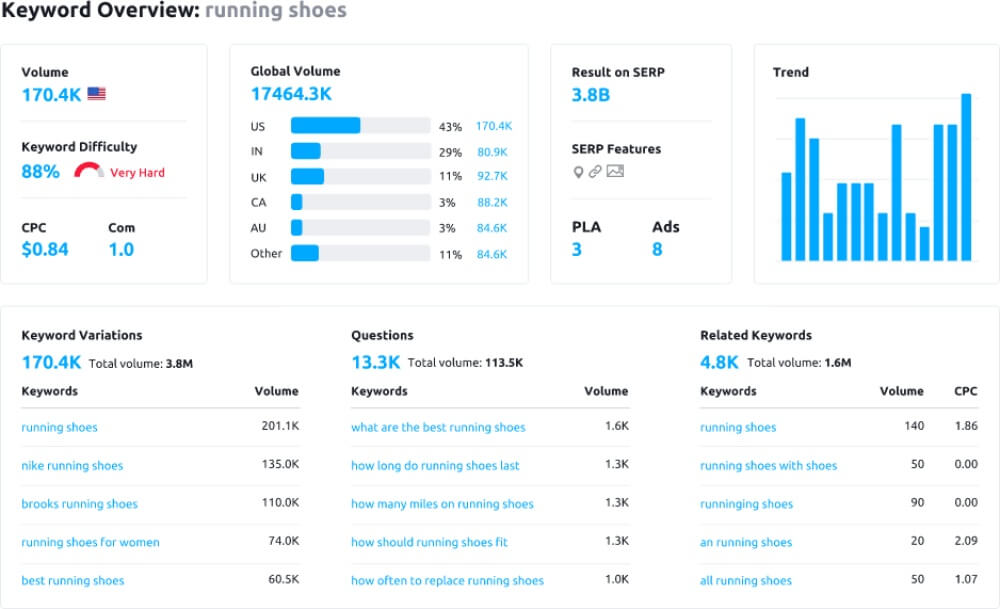 SEMrush has become almost a fundamental tool in every self-respecting SEO strategy.
The tool has proven its worth repeatedly for SEO campaigns by arranging the data in a way that drives your strategy in the right direction.
You can get a complete breakdown of keywords according to the ideas, difficulty levels and variations for your subject.
It can fuel content brainstorming with post ideas and variable information such as search intent markers. Simply put, you can use the tool to build a brand presence and increase your overall online visibility.
SEMrush does offer a free trial period. You can also choose from paid plans starting from an affordable $119.95 all the way up to $449 for the Business plan.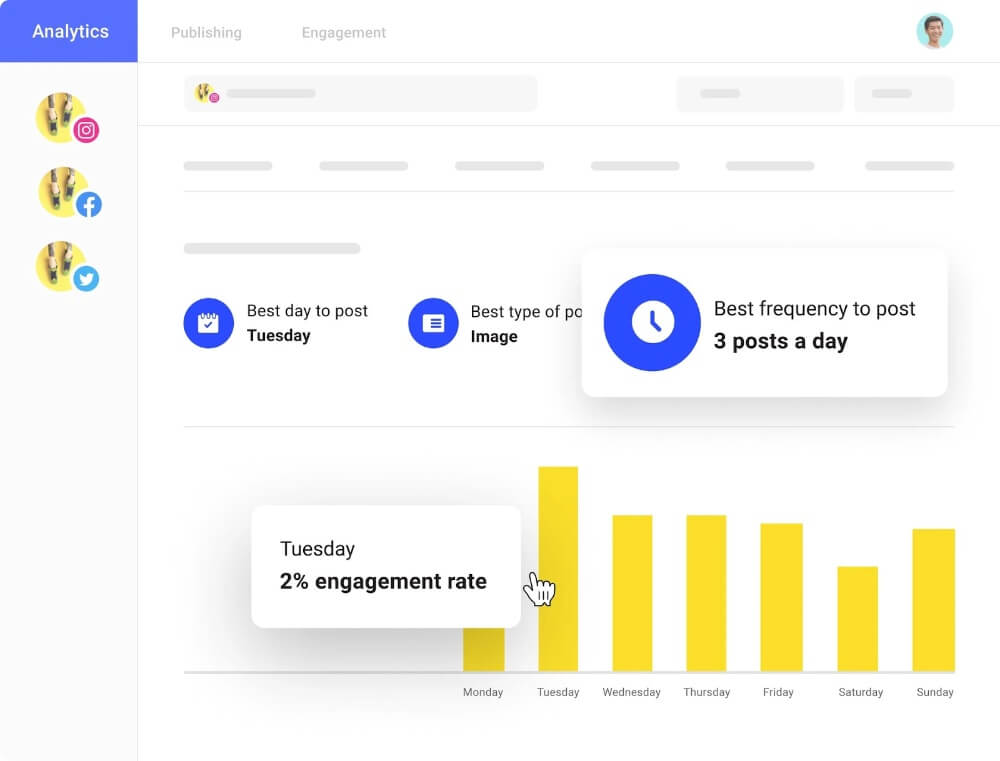 It might have started as a Twitter posts scheduling tool but that is not all that Buffer is today.
The tool now actively supports every major social media platform including the most popular Instagram, Facebook, LinkedIn, and Pinterest It covers the more recent networks as well. You can use the extension for Chrome to add content from online searches into your Buffer queue.
Buffer helps to shorten the URL links that you share. You can either upload custom images or photos directly pulled from the content that you shared from other websites.
The app allows you to create a custom posting schedule to spread out your content distribution along multiple time zones.
For up to three channels, you can use Buffer for free. The paid plan starts at $5 per month for each social channel and you can add as many channels you want to your roster.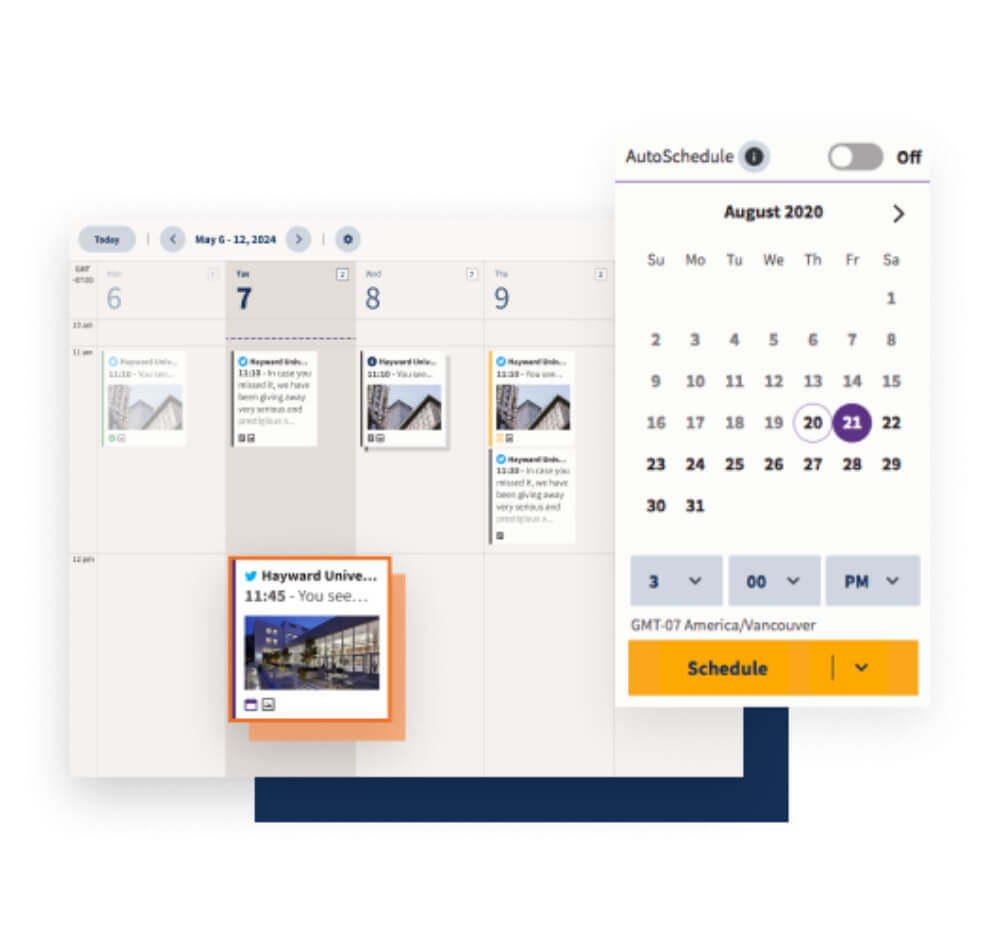 An efficient tool to make sense of the chaos of multiple social network accounts and handling them from one manageable dashboard. Hootsuite can help you collaborate with multiple team members and assign tasks for various stages of the social media strategy.
All comments and campaign mentions are visible in one command center and you can plan your social media calendar and schedule post updates accordingly.
The tool integrates with all of the major social media platforms and gives you a detailed analytics breakdown to track the performance of every campaign running at the same time.
You can try Hootsuite free for a 30-day trial period. The higher priced plans have some added features not covered in the free trial. You can request a demo for these from the company.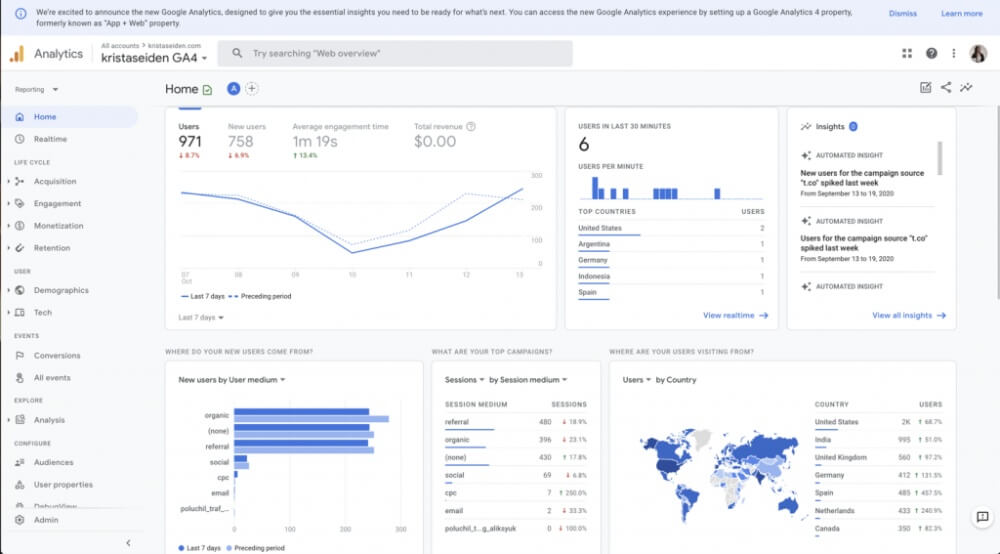 Google analytics is a free software that allows you in-depth insights into the actions and response of your website visitors. You can pair the software with your Google search console to test the functional problems of your website.
However, its most compelling function is for website traffic optimization. You can check how your traffic is being redirected to your website — whether they are coming through other website referrals, organic ads, or social ads.
You can also check the demographics and preferences of your visitors to design your content accordingly.
Based on the analysis reports, you can also understand which platforms and the type of marketing campaigns that are yielding the best results for your efforts. Henceforth, redirect your investment towards these and eliminate the underperformers for a sharp marketing strategy.
Slack is a collaborative communication tool.
It can help your virtual team gather in a single workspace to contribute to ideas and content generation together. The comments and chats can be handled in groups or one-on-one.
Further, you can analyze and plan your digital marketing schedule while taking status updates for all other tools and campaigns in use in real time.
For up to 10 app integrations and a small team, you can use slack free. The Paid plans start at USD 2.67 USD per month and can go up to USD 5 per month.
The pricing for the enterprise plan is available on request.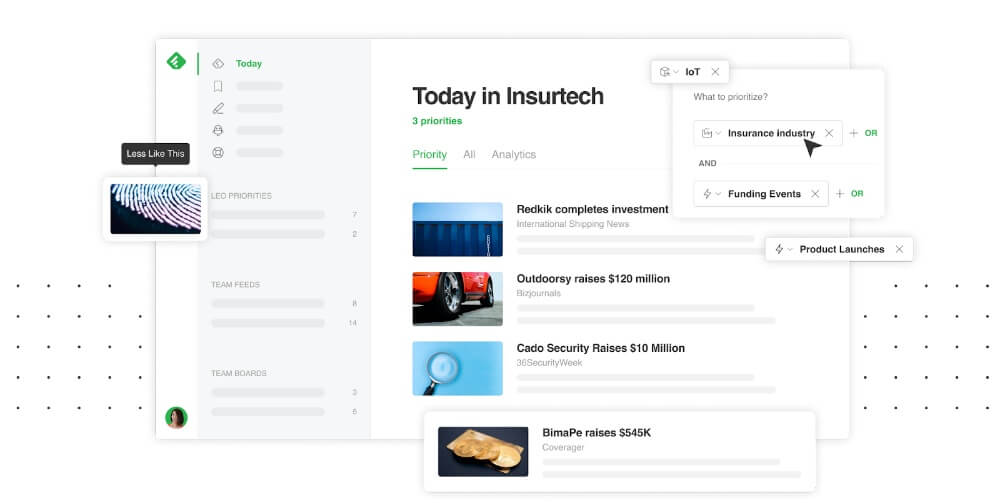 You can use Feedly for streamlined research from so many resources online. The tool is a news aggregator that curates blogs, articles and social content from various sites and categorizes them according to the different niches.
You can set the parameters of each category according to your immediate research needs. The tool will curate the most recent content updates in those fields compiled within a single interface.
Feedly subscriptions start at USD 6 per month for up to 1000 sources. The plans can go up to the Enterprise package but prices for this level are only available on request.
Conclusion
An efficient marketing strategy will need tools to optimize the research, content creation and distribution process.
The tools in this list can further boost your scheduling and content repurposing process.
At this point in your digital marketing game, even survival against your competitors will depend on who is more adept in using the same tools to come up with the most creative strategy. Deliberate on your choices and pick only the best options for your toolkit.
Marketing strategy should not only be online. Digital is a no-brainer of course but depending on your business model and services you want to provide to your customers, you might also need some print options to distribute leaflets or stickers and showcase your brand. We might cover those topics in one of our next post. Subscribe to our newsletter if you are interested!
Author bio
Atreyee Chowdhury (LinkedIn)
Atreyee Chowdhury works full-time as a Content Manager with a Fortune 1 retail giant. She is also a freelance writer for multiple clients across multiple industries. She comes with several years of web content writing experience and you can reach her at atreyee.c@gmail.com for any content writing/copywriting requirements. She loves to read, travel, and experiment with different cuisines in her free time.