Podcasting is becoming popular as it provides opportunities for success not just for individuals but also for businesses. Unfortunately, podcasts are often underutilized. In fact, some business owners considering podcasts for the first time wonder if such can provide a marketing breakthrough.
Whether you're a new business in the market or want to expand your reach, podcasts are one of the must-have digital marketing tools this 2022. Aside from being powerful, creating and distributing podcasts is simple. You only need the best podcast software to produce quality and effective podcasts.
If you have doubts about using podcasting for your digital marketing strategy, below are the reasons it's a must-have this year:
Perfect For Niche Targeting
Podcasting is generally on a certain topic. Businesses may use it for discussing products and services to target a particular audience. For instance, if you're a beauty cosmetic brand targeting to release a new line of lipsticks, every episode should feature influential women sharing their lipstick stories. This way, you'll be able to target the right audience effectively.
Help Business-to-Business (B2B) Companies More Efficiently
In the B2B industry, it's hard to create marketing campaigns that connect to other businesses deeply. Typically, business stories and personal stories don't captivate imaginations like they would for business-to-community (B2C) marketing. With podcasting, B2B companies can share their stories in an engaging way.
B2B companies can use podcasting to connect with their customers deeper. A huge part of marketing is celebrating stories and highlighting struggles. So, if you're planning to create an effective or a viral marketing campaign for your B2B company, never hesitate to use podcasting as your digital marketing tool.
Excellent Way To Build A Community
Many brands want to produce content that contributes towards user-generated marketing. With podcasting, you can create a loyal audience who shares content with their friends. It's an excellent way to cultivate community through meaningful dialogue.
There are different podcasts that strike with a niche, and they're widely shared within that. The niche factor allows businesses to tap customers and target specific groups.
Develop Deeper Connection With The Audience
Podcasting sounds like having a conversation. In fact, most people listen to a podcast while running, walking, or driving. More people also listen to podcasts when they're alone. It means podcasting has a direct effect because it's broadcast directly into one's ears.
Podcasts have stories, experiences, and conversations to make you connect with your audience better. This way, podcasting may help deliver a deeper connection with your audience, which is essential to get results from your marketing campaigns.
No Social Channels Can Substitute Podcasts
When choosing a platform to build your presence, you have plenty of options to choose from. Even if most businesses want to maximize their presence on Facebook and Instagram, some are missing out on the niche that can be built on iTunes and Spotify.
Although marketing on Instagram and YouTube is also effective in promoting brands, they can't cover the complexities like podcasting. It's because some people might not prefer videos, and other brands have target audiences that are more available on podcast channels than video streaming sites or platforms.
To showcase your niche and expertise in podcasting, you must provide a steady quantity of quality content. A good way to do it is by collaborating with other people or influencers whose expertise and experience complement yours. Podcasting enables you to book such individuals as guests and engage in conversations where they share their knowledge while highlighting yours.
Provide More Visibility For The Brand
These days, podcasting is going mainstream, and once your podcasts become known on various platforms, your brand will get more visibility. There are some hacks to improve your brand's visibility via podcasting.
One of the essential strategies is to partner with another platform like a blog that aligns with your podcast topic. Podcasts are an excellent way to cover your key topics in your niche segment and to show your topic's depth. The listeners from across the globe who are interested in your topic may create a bond with you. So, trust and brand visibility can be built better.
Podcasting Is More Than Just Marketing
Podcasting is a digital marketing tool that can be used for marketing and other purposes like providing informational content to your audience. The best thing about podcasts is you can use them to sell a product and provide helpful information at the same time.
You don't need to sound promotional all the time. As you discuss the benefits of your products or services, you can include discussions about other things related to your niche or offerings. This way, your audience will learn more about what you offer and other essential information they need to know to make the most out of your products and services.
Podcasts Are Engaging
When compared to some forms of content, podcasting is very engaging. Your audience only needs to listen, which can be done while driving, walking, or cooking. It isn't something that requires your attention, and you may multitask while listening to podcasts. Podcasting is also convenient for the audience to follow. That's why it's popular among people.
If you produce quality podcasts, you don't need to keep trying to reach your audience. Your subscribers will get your latest episodes automatically downloaded. Podcasting also creates active engagement as avid listeners tend to spend more time listening to podcasts.
Drive Traffic On Website And Improve Your Search Engine Optimization (SEO)
A podcast provides significant SEO benefits, including driving more traffic to your website. To get results, ensure that every episode has a transcript. Following this may allow you to use more keywords and opportunities to maximize website traffic.
Links can be added back to your podcast description, which can boost your website traffic. Just make sure to include the right keywords in your podcast title and description. You may also publish your episode's transcript on your blogs so it can direct your potential audience to your website.
More Creative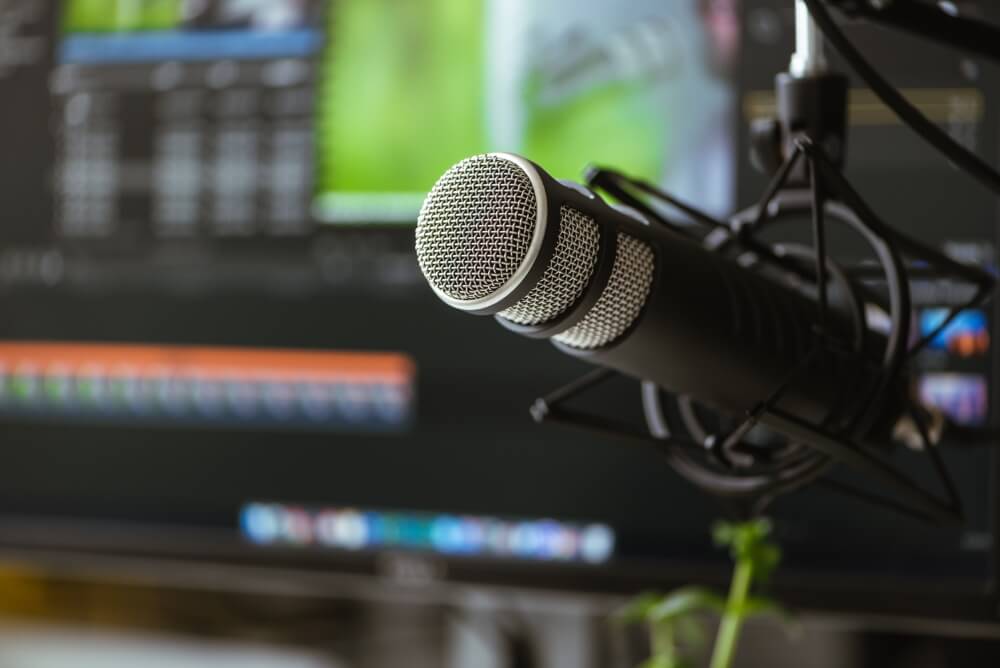 Compared to radio shows, podcasting is more creative because it doesn't need to follow the federal law guidelines for content. For this reason, you can be creative with your podcast content and produce unique podcast ads that don't sound like a common promotional message. So, if you want something new when marketing, use podcasts as your digital marketing tool.
Best Practices For Podcasting
With the reasons above, there's no doubt why podcasting is a must-have digital marketing. Unlike other types of content, podcasting is easy to create, and your customers don't need to keep their eyes on the screen to absorb the message you're trying to convey.
The production cost also ends up being lower, other than dispensing with all the preparation that videos require to avoid appearing amateurish. To get podcasting right, here are the best practices you should note:
Talk To A Niche
Like your blog and your brand, podcasting must be targeted at a particular audience. To do this, you need to know more about your audience so you'll be able to produce podcasts they want to hear. Depending on your podcasting style, you can be as specific as you want to reach a highly engaged audience. Have goals in mind and determine what you want to achieve with your podcast.
Produce Quality Podcasts
To take advantage of the growing appeal of podcast shows, it's crucial to deliver quality podcasts only. To do this, you have to focus on creating a suitable podcast title and artwork that your audience will never forget. It may seem easy, but unless you're a highly experienced media professional, your first few podcast episodes won't be good. Besides, you need to practice podcasting to get good at it, like all things.
As you master podcasting, expect to make mistakes but never get disappointed. Instead, put all your efforts into being a good podcaster and keep recording. Once your podcasting skills improve, don't stop training yourself regularly to produce the best quality content.
Another way to produce quality podcasts is to invest in decent podcasting equipment. While you don't have to spend a huge amount of money on state-of-the-art equipment or software, you must have a decent microphone to get started. After all, podcasts with poor audio quality won't have a chance of success.
Keep in mind that podcasts are another form of entertainment. No one wants to have to strain when listening to you and your guests. Having basic audio editing software, a headset, and a microphone can make a difference in how your podcasts sound.
Plus, sounding like a professional is a critical factor to be successful in the podcasting industry. Therefore, ensure to shop around for the best possible podcasting equipment for your podcasts.
If you're confused with the options available in the market, start by determining your budget and needs. After that, make a comparison of your preferred equipment and read reviews to know whether or not they're a good fit for your podcasting requirements.
Invite Some Experts
Your podcasts will be more interested in your audience hearing more voices talking. However, it can even be better if you have experts who can discuss your niche.
Once you invite experts in your niche, expect to get better marketing results and reach more people. Whether your podcasts have an audience of hundreds or thousands of people, inviting experts as your guests can help expose your brand to potential leads.
Position Yourself As An Expert
If you want to prove your authority in your field, consider using podcasts. If you know enough about a certain topic to fill out a series of podcasts, you're already an expert. But since you're giving your valuable insights for free to your audience, they'll come to see you as authoritative.
Discuss Various Topics
When it comes to podcasting, never focus on discussing one topic only. If possible, discuss different topics, including the latest trends or news in your industry. If there's significant news related to your niche, your target audience probably wants to know about it. The best thing you can do to deliver the latest news is to enjoy the microphone while sharing your ideas.
Advertise On Every Social Media Channel
Make sure to inform your social media followers about your new podcast. Fortunately, there are various ways to promote your podcast on social media channels. For starters, you can share an update about your podcast episodes by going live.
Then, keep sharing with teasers, images, or a short clip of what your audience should expect from your podcast. For instance, if you're planning to post your podcast details on Facebook or Twitter, include the link and create quote images from your podcast.
Seek Sponsorships
As your podcast grows, search for the best ways to monetize it. You can hire sponsors that make sense for your business and are useful for your audience. Other than working with a podcast host, you may contact other businesses to partner with you.
Find businesses that already advertise in some podcasts. They're more likely to consider sponsoring your brand than others that are unfamiliar with the subject.
Monitor Your Audience
To know whether your podcasting is driving results, make sure to track your audience. It can be done by checking subscriptions and downloads. However, don't confuse the two. People may subscribe to your podcast, but they rarely take the time to listen to it. Due to this, downloads are more valuable metrics than subscriptions.
Make Periodic Broadcasts
Never post on an irregular schedule. To make your podcasting effective, you should plan your podcasts. For example, if you broadcast every Friday or Tuesday, your listeners will be able to organize their own schedule so they won't miss your podcast.
Another excellent idea is to make a short series of episodes on a particular topic. But ensure that your schedule is consistent as well. For instance, schedule your series of episodes to go out once a week on the same day.
Bottom Line
Podcasting can be an effective marketing tool to leverage your business. It doesn't only help your business garner more customers, but it also improves your brand's profitability. Just make sure to use podcasting properly and don't focus solely on marketing. If possible, provide educational and helpful podcasts to better connect and engage with your customers.