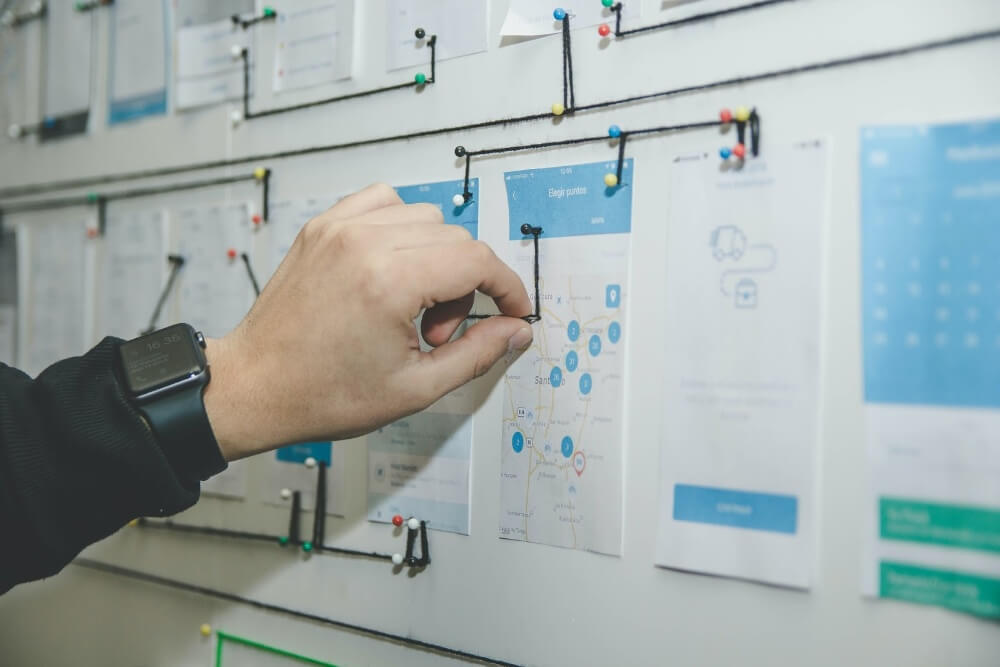 Photo by Alvaro Reyes on Unsplash
B2B UX is notorious for being poor. The main reason for that? The discrepancy between the buyer and the end user. Moreover, as companies struggle to see the instant value of UX in revenue, they're not keen to invest in it. However, UX is one of the most important factors in building the online presence of B2B companies. We'd go as far as to say that it is essential in building customer loyalty to your brand.
Because of its importance, we've created a comprehensive guide on B2B UX Strategy to help you meet your objectives.
By understanding which parts of your website are the easiest to use and provide the most value to your customers, you'll be able to build on them and take your:
User experience
Customer satisfaction
Number of users
to a whole new level.
B2B online behavior is different from B2C behavior. As a result, convincing businesses to choose your product, among hundreds of competing others, won't be as easy as it might be in B2C sales.
In B2B sales, the user experience of your website shows your B2B customers whether they can rely on your products to save money and increase their return on investment.
That's why you need to make sure that your UX is designed in a way that fulfills your B2B customer's needs.
By taking care of the user experience element of your website, you're ensuring several positive results:
Websites that are easy to navigate and have a fast-loading speed reduce bounce rates.
But who should your B2B website be easy to navigate for?
Well, as opposed to B2C websites, B2B websites need to appeal to multiple people at different hierarchy levels.
That means that your navigation has to be desirable to both the decision-makers in your B2B customer's company and their end users.
In B2B sales, your target audience is made up of consumers with greater knowledge of the product or services you're trying to sell.
This means that you'll need to provide your audience with much more in-depth content than in B2C sales. This includes articles, webinars, white papers, case studies, buying guides and many others.
B2B consumers do a lot more research than B2C consumers before making the final purchase. That's why you need to integrate UX into every step of your user's journey, including your headlines, copy, visuals, email list, CTAs and so on.
By doing this, you'll be able to increase your conversion rates.
Because the research process takes so long, B2B sales cycles are usually shorter.
This is another instance where easy navigation and comprehensive information regarding the product can speed up the sales process.
In other words, the sooner you provide your B2B customers with more information that they need, the earlier you'll make a sale.
Fifth, UX is a great tool for increasing customer engagement. A responsive design gives your customers more opportunities to contact you and get quick answers to their inquiries.
The quicker you solve their issues, the happier and more likely your customers are to return to your website and continue making purchases.
B2B consumers usually buy products as a part of a larger system.
That is why all the relevant information regarding regulations, compatibility and integration of your products needs to be easily accessible to the customer. Your UX design plays an integral role in achieving this.
As you can probably tell by now, the number one sign of poor UX design is confusing navigation.
A design that is gimmicky and difficult to use gets in the way of functionality. This will make your B2B consumers turn to competitors who have more efficient, straightforward websites.
Another thing that is greatly despised among users (and we'll talk about them more later) is forced content. Namely, forced pop-up offers and signups.
If you include too many sales hooks on your website, your content (which is your greatest asset in B2B sales) might go unnoticed. That's why it's important to give your users the freedom to ignore them.
Moving on, we've already established that B2B consumers need a lot of information to begin with, to even consider purchasing down the road.
A website that lacks key information, such as dates, contact information and answers to frequent questions, is considered to have a poor UX design. However, keep in mind that the same applies to websites with too much irrelevant information.
Finally, a website that isn't mobile-friendly is also considered lackluster in terms of UX design. You should never forget to optimize your web pages for mobile users to enhance your overall user experience.
We've already acknowledged that the slow loading time of your website can act as a customer deterrent. Statistics have pointed towards less than 2 seconds being the ideal loading time you should strive for.
To ensure that the loading times of your pages are optimized to satisfactory levels, you can either hire a UX expert to perform a website audit and address this issue or use tools like PageSpeed Insights or Sematext.
The design of your website should always give your visitors prompt feedback on where they are on your website.
A great way to guide your users to a particular page, while making them aware of the path they've taken to get there, is through breadcrumb navigation. If you have a website with dropdown menus in the navigation bar, breadcrumbs will show up as horizontal links.
Keep in mind, though, that having too many dropdown menus can lower the quality of your UX.
So, why are breadcrumbs important? Mainly, because they make navigating through the website easy. Having them on your website encourages visitors to go through multiple pages of your site before leaving.
To summarize, if you want to reduce customer frustration due to confusing navigation and to lower your bounce rates, make your website:
Simple
Consistent
Easy to navigate
Google's algorithm is focused on figuring out which are the topics your website is an authoritative source for.
The more high-quality content you create within your expertise, the more likely you are to rank higher on Google.
That means that you need to create up-to-date content that is relevant to your target audience. Content that solves some or all of their topic-related issues.
Keep in mind that besides providing value, your content needs to be engaging to successfully rank on Google. Ultimately, you want people to reshare your content and refer more business to your website.
Just be careful about content-bombing. You don't want to overwhelm your customers with too much information so that they're unable to find what they were initially searching for. Keep your audience focused.
Ultimately, when your target audience is scrolling through your website, you want them to end their visit by making a purchase. The way to prompt your audience into the desired action is through the utilization of CTAs.
The design of your CTAs should visually represent your goal, which is to get users to click on them. There are many ways in which you can achieve this. Our favorite tip is to add a small shadow to the CTA button, to make clicking on it more satisfying.
Think about the best placement for your CTA buttons, too. You don't want to cluster and dump all of your CTAs on the user all at once. Instead, study the way your target audience consumes content and separate your CTAs accordingly.
Last but not least, make use of white space. This will allow your users to easily find what they're after and make your CTAs stand out instead of passing unnoticed within the content.
Depending on your industry, the most important pages on your website are your:
Homepage
Landing page
About page
Sales page
Contact page
Why? Because this is where the most important information regarding your business is kept.
For this reason, you want to make sure that these are the first pages you optimize for an enhanced customer experience. The way to do it is to collect user behavior data first.
As we've previously mentioned, you want to know the way your audience travels throughout your website and which content keeps them engaged.
Then, in addition, you want to perform A/B testing. This will help you identify which elements of your user experience need changes and improvements.
If you need help with collecting and analyzing user behavior data for website optimization, you might benefit from partnering up with one of the top user experience design firms.
The needs of customers must come first.
That means, if your customer has an inquiry, you need to respond to it as soon as possible, in a pleasant manner. You need to make your customer feel valued.
One way to achieve this objective is to determine who will be responsible for addressing customer issues. Will you have a few persons available at all times, or will you use bots?
Next, you'll need to figure out how to provide customers with answers when no one is available to chat with them live.
If your client's inquiries are about prices, you could benefit from split overviews of pricing plans. If they're about frequent questions, you could include FAQs on your website.
Just make sure that your clients have multiple ways of contacting you and that these ways correspond to their demographic.
Businesses use different ways to grab the attention of their target audience. For example, pop-ups and autoplay content can be a great way to engage your audience and improve your conversion rates, if done right.
If done wrong, they can feel extremely intrusive and lead to high bounce rates.
A great way to make the most out of these tools is to give up some of your control over them. What does that mean?
Well, it means making your pop-ups appear with options to reject your offers. It also means making "Off" a default option on your autoplay videos or sound bites.
In other words, instead of aggressively coercing your customers into the desired action, you're subconsciously making them feel like they're deciding on their own.
As a result, this kind of customer freedom will only add to your customer experience by allowing your customers to easily exit the unwanted circumstances.