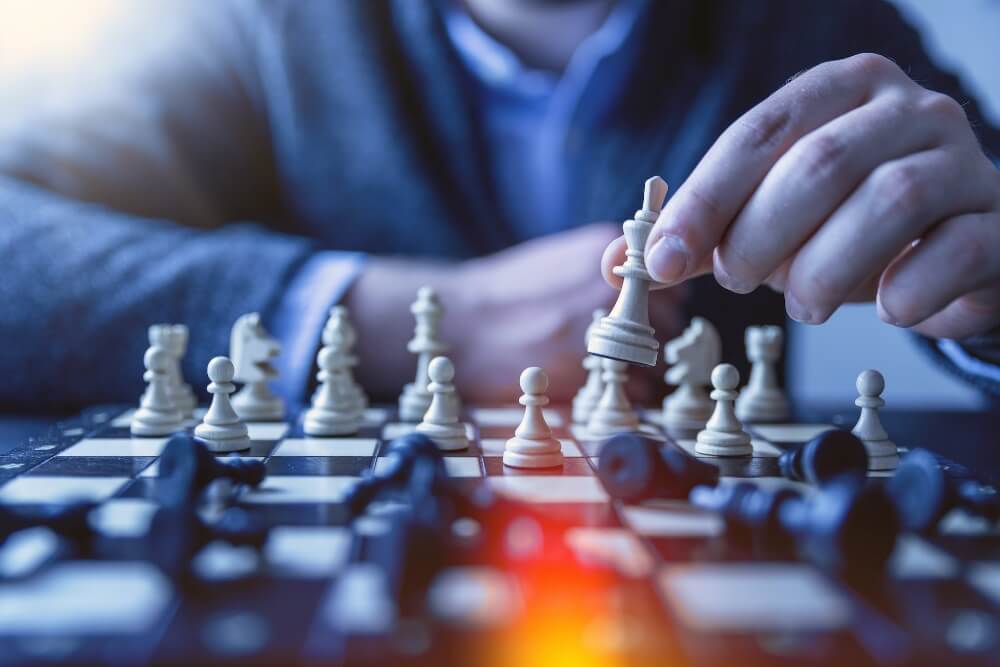 How we wish that churning out words and publishing articles was enough of a content strategy to catch the much-needed attention of our prospects.
But we know this thought is too ambitious.
Because your job doesn't end with hiring a writer and expecting your content to become the most talked about in the industry.
Like all things in life, you need a plan.
Today, nearly 82% of marketers use content marketing as a part of their overall marketing strategy.
Why?
If done right, a well-defined content strategy can take you places. And by places, we mean higher ranks on search engine result pages.
But the keyword here is 'well-defined'.
The more detailed and action-oriented strategy you develop, the higher chances you have of acing your content game.
To get there, you need to consider a content strategy checklist that sets the motion going.
What are the things that you need to tick off?
Let's take a look.
Setting your goals or SMART objectives is a default first step for any strategy. While every brand would create a content strategy as a part of their marketing objectives, every strategy will look different. Because not everyone will have the same purpose or expect the same outcome from their content.
Some just want to raise awareness and generate leads, some want to increase signups, and some want to establish thought leadership. Research by HubSpot reflects that sales and online traffic are the most common form of goals and measurement of the success of content marketing.
What you choose depends on where you stand as a brand and what type of presence you want to establish. It is essential to discuss with the marketing and management team alike to define what is it that your brand wants to achieve and by when. For example, your goal can be "increasing your website traffic by 15% by the end of the quarter" or "increasing the leads by 30% by the end of six months" or something else.
Once the goals are established, document them. You can pick a content strategy template where you can clearly branch out your objectives and note down the actionable steps to achieve them. It also becomes easy to connect all activities to the goals and track them for progress.
Once you figure out the what, you need to figure out the who. Narrowing down your target audience is easier said than done. Because although you're aware that your content has to have some value and encourage action from your audience, you'll need to dig deeper into what it is that your audiences are expecting from you.
The tricky part here is that not all your target customers are in the same buying stage. You'll need to create personas for each segment and develop a content strategy for each one of them. Most brands categorize their audience into the stages they are in the sales funnel which are:
Top of the funnel
Here, your audience is still in the awareness stage. They might have heard about your brand or be completely oblivious of it. Regardless, you have to publish content that educates the reader about your brand. It's where you have to build trust with quality content in the form of blogs, whitepapers, and e-books.
Middle of the funnel
If a lead reaches the middle of the funnel, it means you have a product or service that interests them and can solve their problem. The content here has to be more specific than the top of the funnel. But this type of audience is still at the research stage so you still have to be subtle in pitching your product. You can do that via comparison guides, webinars, podcasts, etc.
Bottom of the funnel
If your leads reach the bottom of the funnel, it means they're properly qualified and nearing the buying decision. They're aware of your brand, your services, and your competitors.
So your content strategy has to rely on converting these prospects into customers. Some of the ways you can do this are case studies, product walkthroughs, product-oriented blogs, demos, and vendor comparisons.
Execution of content strategy doesn't just fall upon the writers. After the content is written and edited, it needs to pass through the SEO parameters and needs to be distributed to the right channels. All these activities will need different sets of expertise.
Depending on the content you're creating, you can build a team that covers these skill sets such as:
Content Writer
Content Marketer
SEO professional
Marketing Manager
Digital Marketer
Designer
It's not necessary you hire different talent for all these roles. Even if one person possesses more than one skill, you can use that. The idea is to have all these skills while executing your strategy.
If you want to attain consistency and efficiency in your content creation and distribution, you have to incorporate automation into your processes. In every aspect of content marketing such as generating topic ideas, setting deadlines, project management, and keyword research and optimization, you have tools that can help you effectively execute your strategy. Some of these tools are:
Some other tools to consider are email marketing tools like ActiveCampaign, content project management tools like CoSchedule, AI content tools like Acrolinx, and content experience tools like Uberflip.
With content, consistency is the key. You cannot publish all your content at the beginning of the month or week and publish nothing later. A content calendar will help you organize your content and help you distribute it evenly across a month.
Although there isn't an ideal timeline, having a full-proof plan for a month can help you stay relevant and touch upon the trending topics. Some brands plan a content calendar for 6 months or a year in advance. While you can do that, ensure that the topics can be changed as things are dynamic in digital marketing.
The calendar offers a transparent depository of the deadlines, the content due, content completed, the team member responsible for the project, and the status of every project. It will also help you streamline your posting schedule on social media which will help you be more consistent with your social media engagement.
Once you have everything in place, you start with the core of the content strategy — drafting the content. But before that, keep the following things in mind.
Ideas
Before writing the content, you'll have to start with the ideation process. This is where you need to take your previous research into consideration. Who is your audience? What is your goal? And what are they looking for? It will help you brainstorm in a specific direction and come up with trending topics.
Brand guidelines
Your content should resonate with your brand image. The guidelines should include what tone the content will follow, what format and fonts it will adopt, what type of images it will use, etc. Ensure that the content aligns with how your audience perceives the overall brand.
Type of Content
Ensure that there's versatility in your content. Apart from blogs, be consistent with other types of content like case studies, e-books, social media posts, tutorials, webinars, podcasts, etc. It will help you better engage your audience.
CTAs
At the end of the day, you'd want your readers to take some action after consuming your content. Have a crisp and compelling CTA that urges the reader to click on it be it a social media post, an e-book, or a blog post.
Your audience won't magically find your content. You'll need to distribute your content in a manner that attracts eyeballs. Figure out how and where you will publish the content. Will the channels be paid, earned, or owned? Will it be sponsored? If it's paid, will it be distributed via pay-per-click ads, influencers, or sponsored?
The answers to these questions again root back to researching the buyer persona. If you manage to get a detailed overview of where your target audience spends most of their time, you'll know what distribution channels to use and how to optimize content for their viewing.
Apart from the channels, you also need to research what time you should post. Research suggests that the time of peak engagement to post on social media is on Thursday and Friday. Similarly, use analytics tools to see when the audience is engaging the most on each channel and optimize your content accordingly.
When we say optimized, it's not just including the relevant keywords but going the extra mile with semantic SEO for your content to rank higher.
Here are some content optimization tips to start with:
Have a unique title and ensure that it's not similar to the ones that rank high on Google.

Keep a short URL that includes your primary keyword.

Optimize your website loading speed.

Ensure that your content is optimized for mobile devices.

Ensure that your page has only one H1 tag and it is similar to the page title.

Break up your content with H2 and H3 subheadings. You can also include relevant primary and secondary keywords in H2s and H3s.

Check that the content is high on the readability quota. It has small paragraphs and is easily understandable.

Ensure the uniqueness of your content with the help of a plagiarism detector. This tool can help you trace down the instances of duplication so that you can make your content unique
Also, perform content and SEO audits periodically. These backend efforts will improve the value of your content and help with its visibility.
While content distribution plays a major role in making your content accessible to readers, you have to take extra measures to promote it. A well-rounded content marketing strategy includes a solid content promotion plan.
Some of the steps you can take are:
Use social media to notify your followers about the latest content you published.
Send out weekly or monthly newsletters to your subscribers with a collection of recently published articles.
Undertake internal and external link-building activities. This can boost your organic SEO efforts.
Do paid marketing campaigns on your social media and Google to increase your viewership.
Yes, you obviously need to monitor your strategic activities. But the tricky part with content is you need to be patient. It might take weeks or even months before you see any progress. Research suggests that SEO and content efforts take at least 6-12 months to show progress.
Meanwhile, you'll have to continuously keep up with the changing trends, keywords, and preferences of the consumers and update your content accordingly. This will help your content stay relevant and boost its ranking.
Apart from the updates, you need to set Key Performance Indicators (KPIs) through which you can measure the performance of your content. Some of the most common KPIs that brands use to monitor content are:
Average session duration
Content click-through rate
Social media likes, shares, and comments
Scroll depth
SEO rankings
Influencer mentions
Increase in leads
Increase in organic website traffic
Number of backlinks
Choose your metrics based on your goals. If your goal is to increase engagement, then check the time spent on the site, the social media engagement with the content, etc. If your goal is to get organic traffic, check for backlinks and SEO rankings, etc. Once you decide on the metrics, document them and measure the performance based on a monthly or quarterly basis.
Finishing thoughts
Since content has become an integral part of marketing in general, the efforts need to be consistent. Search engines and social media are dominating in terms of the amount of time spent by the consumer on the internet. A content strategy will help you not just get noticed but also strike a chord and help you build a lasting impression on your readers.