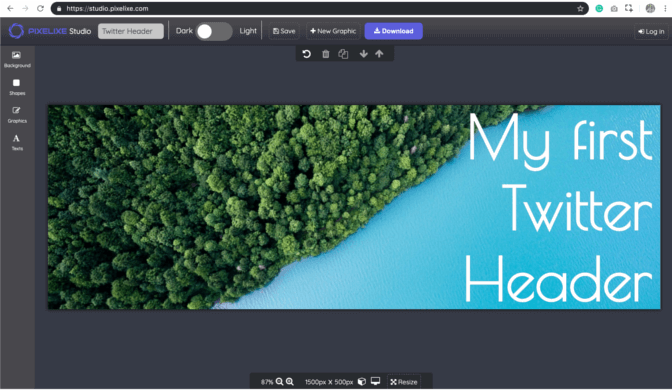 There are various places you can use images on Twitter, including the header photo, your profile picture, and on your timeline or feed. In this post, we are going to focus on Twitter header dimensions.
Twitter's web interface is designed to be responsive, which means it fluidly adjusts for different displays (different sizes of desktop), and it's flexible enough to deal with desktops as well as mobiles.
Find here some recommendations for making the most of your Twitter header photo and profile picture and avoid mistakes of beginner.
First of all, it is important to optimize your Twitter header photo with these dimensions: 1500 pixels wide by 500 pixels tall. You'll also need to account for your profile picture and the invisible area (at the top and bottom of your image).
Twitter header size
Twitter banner dimensions: 1500 x 500 px
Profile picture dimensions: 400 x 400 px
Twitter header safe area: 1500 x 360 px (to avoid the invisible area)
Accepted file type: JPG or PNG
Keep in mind that the maximum file size is 2MB, and the accepted formats are JPEG and PNG files. (Twitter does not support animated GIFs for profile or header images.)
How to get the ideal Twitter Header Size taking into account your profile picture
Here's what we recommend for your Twitter header dimensions:
Use the recommended sizing of 1500px by 500px
Leave empty space at the top and bottom of your header photo
Leave ample space on the bottom left corner to account for profile pictures and different screen resolutions
You will lose the original quality of your image after the upload, so I suggest you to save your work in its highest quality.
1°) First thing to take in consideration is your profile image. In fact, your Twitter profile image will hide your twitter header at a different location depending on screen sizes (desktop, mobile, etc..) . An example below with Elon Musk Twitter profile, as you can see on the two images, depending on the screen width, Twitter headers are not displayed the same way.


The Twitter profile image is covering the first planet in the first image and the second planet in the second image with a wider screen resolution.
2°) The second element to take into account is the visible area. As you can see below, keep in mind that only 80% of your Twitter header will be visible. Sides won't always be visible and the result will be different whether your profile is displayed on the mobile app or on a desktop browser.

Keep the Twitter header design clean
Are you aware that in 2019, 85 percent of Twitter users are mobile and that the majority of phone screens had a diagonal length of 4.7-to-5.5 inches? That doesn't leave much room for small details.
My advice is to choose a nice background image and to add just a short and large text to catch the user's attention and ease the process of reading your short text (catch your visitor's attention.
How do I create an image with the correct Twitter header size?
Here is a good way to ensure your cover photo is the correct size for Twitter.
1. Create a canvas with the 1500 x 500 px Twitter banner dimensions in Pixelixe Studio
You can use our free design software, Pixelixe Studio to create your own unique banner image.
First choose a custom format of 1500 x 500 px and click on the "Create" button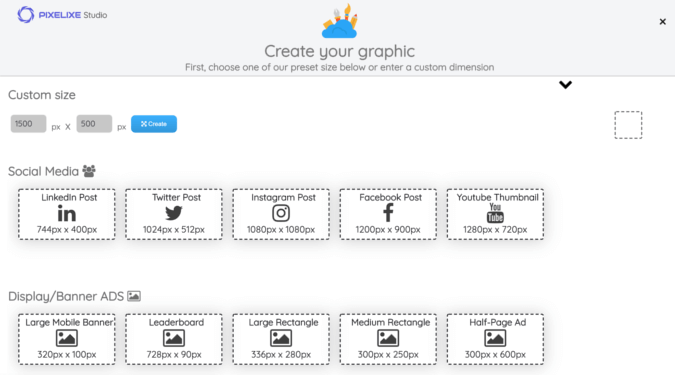 2. Choose a background searching into the 1.000.000 stunning images and phtoos available in the "Background" section (left menu).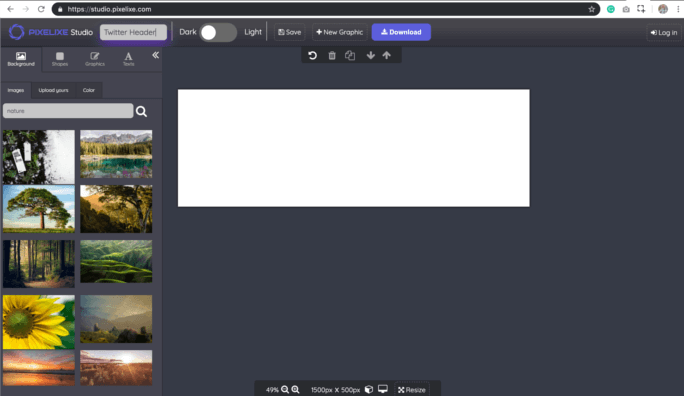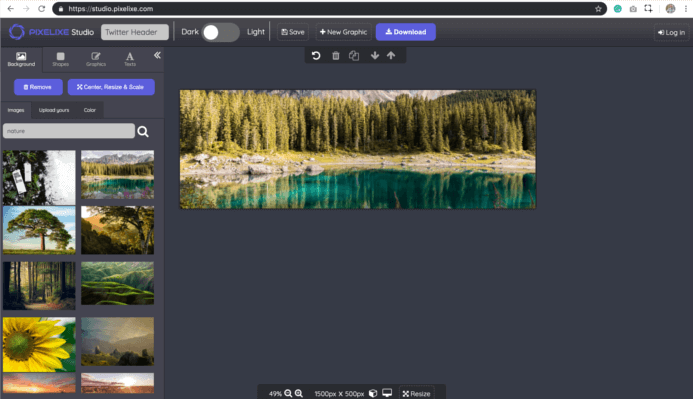 3. Add a text to your image and don't forget to choose a large font size to maximize your chance to catch the attention of visitors.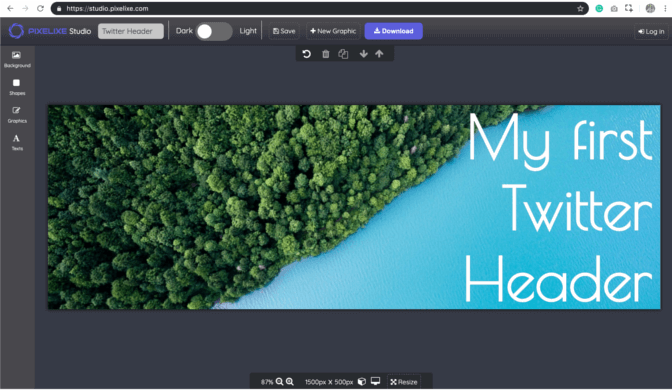 Pixelixe Studio is free and no account is required to use it. Create your first Twitter header now.
Conclusion
If you've used Twitter for years, you may have plans to buy Twitter followers or acquired several techniques to make your growth steady but when was the last time you thought about your banner image? If it's been a while or your cover photo was an afterthought, it's time to give your profile a fresh look!
As you can see, optimizing your Twitter header isn't as easy as you'd think. We hope this guide helps clear things up and allows you to perfectly size your Twitter headers without running into too many issues.
before we continue and you spend a considerable amount of time on Twitter, make sure you take care of your other responsibilities.
In case you are a high school or college student, the first thing you need to take care of is your homework. If you need help with it or simply want to get a higher grade without actually writing your paper, delegate it to academic writers from essayservice.com, a professional essay writing service for students.
N.B: Almost two years have passed since we published this Twitter header size article. Twitter is still one of the most used social media platform out there on the market. We continued our effort to deliver the best quality of service to our users. Today, we wanted to update you with a new website and enriched app. We are glad to let you check out our banner maker for Twitter.