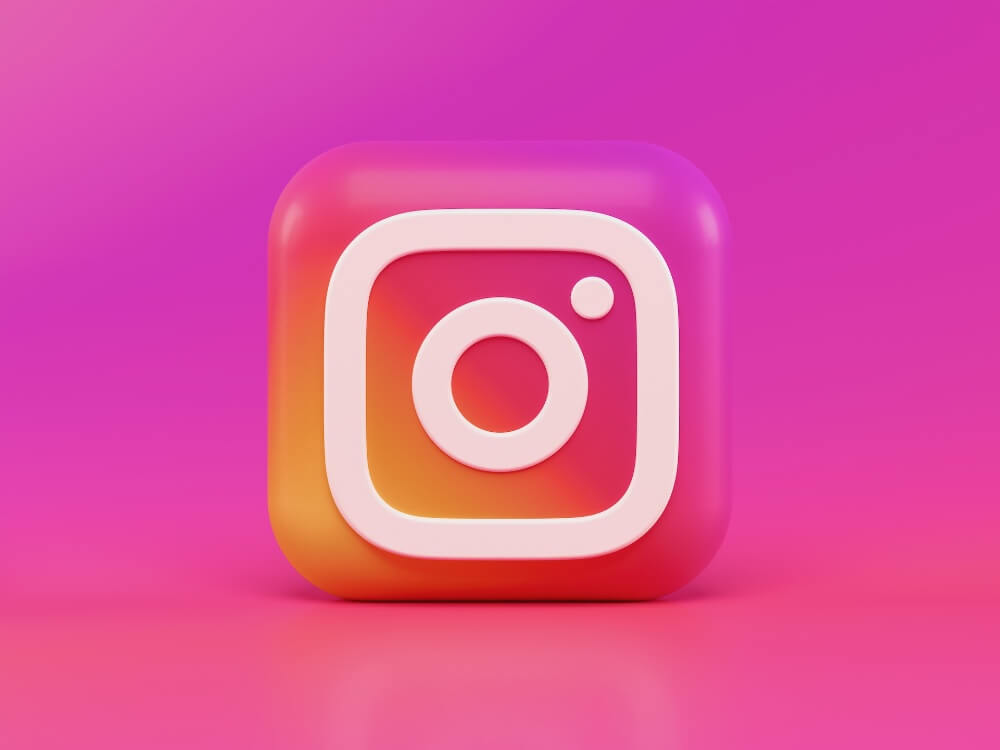 Unquestionably, one of the most widely used social media sites is Instagram. It introduced Instagram Stories, a new tool that lets users share their daily moments as Instagram stories. Although it boasts many fascinating and unique features, it also has certain limitations.
First, when you look at someone's Instagram highlights, they can also see who looked at them. Second, users are unable to access stories anonymously. Moreover, to protect their privacy, Instagram lets users see who is viewing their content. It implies that if you watch someone else's narrative, that person will also be able to recognize you by your name.
Why Users Couldn't Watch And Download IG Stories Anonymously?
Regular Instagram users understand how important anonymity is. You also know how to view Instagram stories online. Moreover, each of us has desired to see someone else's profile without their knowing. However, this is not typically the case; when you see someone's story, the view will be included in their view list, revealing your identity to the account owner.
Thankfully, Instagram has developed new, intriguing capabilities that also enable users to watch insta stories in peace without worrying about being discovered. Using the swipe back stick to open the Instagram app and find the profile icon of the person whose story you wish to see is one of the most recognizable ways to browse stories anonymously.
The use of airplane mode and an anonymous account are also the two most reliable methods for reading Instagram stories privately. Because you can see the stories that have already been loaded, airplane or flight mode is one of the most popular ways to view Instagram stories. On the other hand, the fake account tool functions by normally creating another account from which you can calmly see the relevant story. Let's also know more about how to view someone's Instagram story anonymously and also how to view Instagram story without account!
Method 1: Airplane Mode
One of the most popular methods for watching Instagram stories secretly is this one. Using Instagram with your device in airplane mode ensures you have the privacy required to browse the app. When your phone is in flight mode, the internet connection is instantly cut off, allowing you to view only the preloaded content. They won't be aware that you have read their stories if you do it this way. It is also a method as IG reels viewer.
Method 2: Anonymous Instagram Account
Furthermore, using burner accounts, which cannot get used to identify you, is another option to browse stories without being discovered. It is crucial, especially if you want to monitor someone for a long time. You can have a second account, but nothing is connecting you to it. You can also use this as an Instagram story highlights viewer.
Method 3: Best Instagram Stories Viewers For PC, Android, And IOS
The term anonymous Instagram story viewer refers to an internet tool that allows you to view other people's Instagram stories secretly. These programs also enable users to watch other people's stories without signing up for or entering into an Instagram account. Moreover, some of the best Instagram stories for viewers for PC, Android Instagram viewer, and IOS are discussed below in the article in detail!
What Is It Anonymously IG Stories Viewer?
The Anonymous IG Stories Viewer is also an internet tool that allows you to view Instagram anonymously from individuals without them being aware. You can also download their stories/posts to your computer or smartphone. Also, you can watch Instagram stories anonymously iPhone!
#1 Instastories.Watch
Undoubtedly, one of the most dependable anonymous Instagram stories viewer is Instastories.watch. You have the freedom to view and download Insta stories on your PC while keeping your identity hidden, thanks to this app.
You may also accomplish this without creating or logging into an Instagram account. The ability to stream live Insta-stories of any public user anonymously and also watch and save Instagram Television (IGTV) content is yet another incredibly amazing feature of InstaStories.watch. Additionally, it does not save any data, guaranteeing your anonymity. Finally, users can select the language they want to utilize on the app. You can view Instagram reels anonymously too.
Features
Some of the significant features of the InstaStories.watch are:
· Browsing secretly
· Easy UI
· No Registration
· View ig story without account
· Various language versions
· The ability to download Stories, Videos, IGTV, Photos, and Highlights in a variety of file types, including MP4 and JPEG
· Quick loading time
· 100% Free
Step By Step Guide: How To Watch Instagram Accounts Anonymously Via Instastories.Watch?
Are you trying to utilize instastories.watch? Follow the steps mentioned below.
Firstly, start by copying the target viewer's link's handle.

Go to the InstaStories.watch the search box, and paste the copied name or link.

After pressing the enter key, you will get taken to the page where the entire subject's information is displayed. You can access all of the data in their biography, live streams, writings, and stories while you're here. Now, you can view it in anonymity.

Click the publication symbol to access the download button if you want to download their story. The downloaded data may get found in your download folder.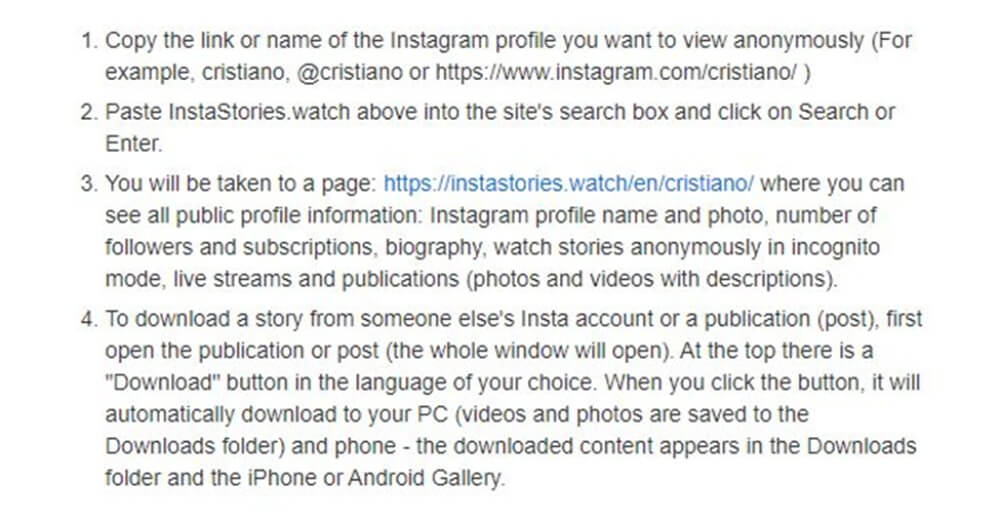 #2 Storiesig.Me
Because one can browse IGstories through an ig anon viewer and even take data from public account holders using simply the Instagram API, StoriesIG.me is the finest Instagram anonymous story viewer app for iOS and Android. With this application, you can browse or download data like Stories IG from the specified Instagram account without having an Instagram account or being logged in.
You can download Stories by hiding IG story viewers and highlights to a phone or a PC, which is a crucial component of this service. Additionally, this program ensures complete operational secrecy, so your discreet spying is safe. The service is also available in the language of your choice.
Features
Some of its most prominent features are:
· Anonymous Browsing
· Easy to use and fundamental UI
· No registration or login required
· View Instagram story without account
· Various language versions
· The ability to download Stories, Videos, IGTV, Photos, and Highlights in a variety of file types, including MP4 and JPEG
· Quick loading time
· No cost to use
Step-By-Step Guide: How To Watch Instagram Accounts Anonymously Via Storiesig.Me
Make a copy of the user's account or the name you want to follow.

Paste into the search field of the app and press Enter.

You have reached the page from which you wish to draw your material.

Clicking on the item will take you to an automatic download button where you may download it.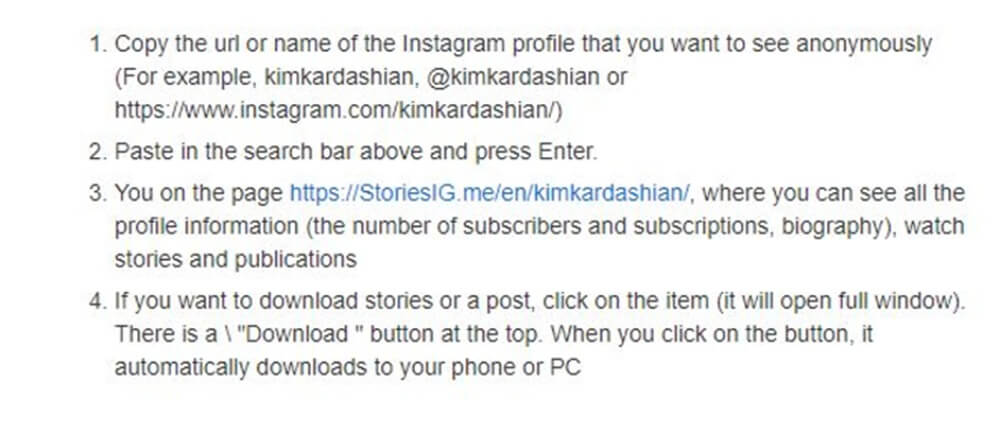 #3 Storiesdown.Com
It is free to read and download Instagram stories using the website StoriesDown. Early in 2020, StoriesDown was live, and today it has 7.7 million visitors each month. You can always use StoriesDown to download those video stories if you're busy. You are not required to inform the user that you have seen their Instagram story. There is no registration or installation process needed to use StoriesDown. Also, view Instagram highlights anonymous by this service.
Features
Some of its best features are:
· No Instagram Account Required
· Anonymous
· Download and Distribute
· The ability to delete content that offends you
· Various language versions
· The ability to download Stories and Photos in MP4 and WebP formats
· No cost to use
· Data for available postings
Step-By-Step Guide: How To View Ig Account Anonymously Via Storiesdown.Com
Use StoriesDown to see and save Instagram stories without a route map. To view your favorite secretly on Instagram, follow the steps given below:
Visit the StoriesDown official website.

Type the Instagram username of the account you wish to follow.

Press "Search."

For viewing their story, click the "Download" option to the right.
They won't be aware of Instagram story viewers this way, and even if it vanishes from their account, you will still have a copy of it.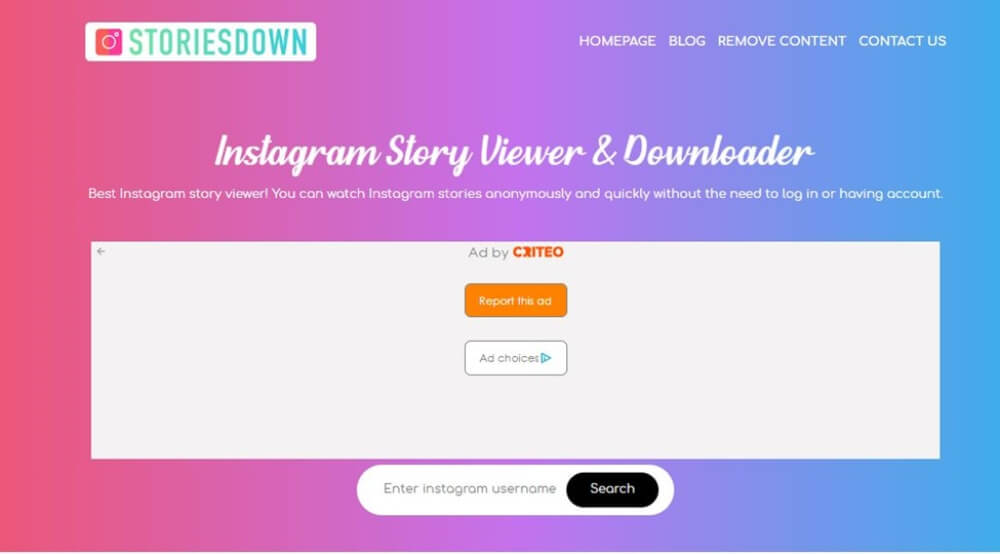 #4 Instanavigation.Com
It is also simple to stay informed of all the occurrences involving a specific individual with the help of the free InstaNavigation service. Moreover, their resource specificity is in complete user anonymity, allowing you to track followers, likes, read comments, and monitor stories, streams, images, and other activities. By this, you can also view Instagram stories and posts anonymously.
Features
With this service, you can view ig posts anonymously. Some features of this service are discussed below:
· No need for a profile
· Assurance of privacy
· Saving the information to a smartphone and computer
· Viewing of publications, highlights, and stories
· Usage is free
Step-By-Step Guide: How To Watch Instagram Accounts Anonymously Via Instanavigation.Com
To watch Instagram anonymously, you should:
Firstly, open the web page.

Use the @username or https://www.instagram.com/username forms to enter your username in the search bar. You'll reach the wished-for account.

You can also look up posts, stories, and Instagram stories.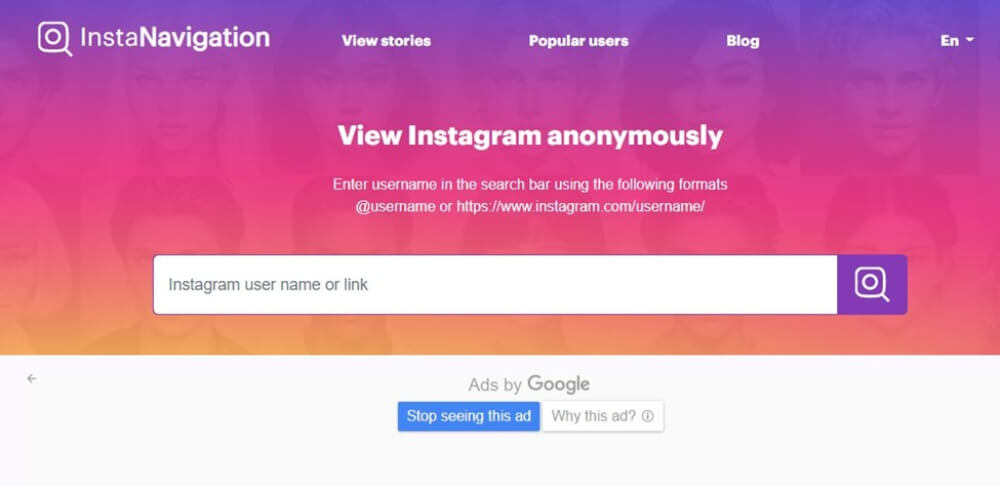 #5 Istories.Site
iStories is also a free service that allows you to view public Instagram profiles anonymously. Using their platform, you may secretly track stories and highlights, live broadcasts, postings, likes, comments, and subscribers. You can also access the feed and stories without checking in or installing an app if you don't have a personal Instagram profile. Now, you must be clear that how to view ig stories anonymously and also how to view ig story anonymously.
Features
A few of its features are:
· No account is required
· 100% privacy
· The capability of loading for iPhone IOS, Android, PC, or Laptop
· Free
Step By Step Guide: How To Watch Ig Account Anonym Via Istories.Site?
Firstly, enter the name of the account from which you want to download content.

When you click enter, all the most recent information will get displayed.

Choose the item you wish to save to your phone and click on it to activate the download button.

Furthermore, look in the download folder for the downloaded video.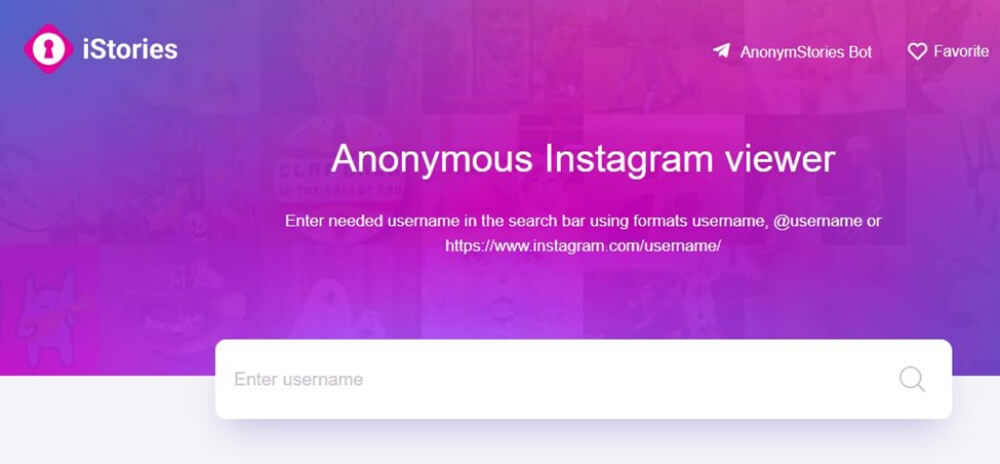 FAQ
Can You Watch IG Anonymously?
You can also view IG anonymous and swiftly without logging in or creating an account. Also, view without having to log in or install anything. Then, enter the Instagram username of the person you wish to stalk. Nobody will suspect you are following their stories.
Can I Download IG Highlights, Reels, Posts, And Stories Anonymously?
Instagram Stories Downloader is a robust and adaptable solution that works flawlessly with most devices. Moreover, it makes no difference if you prefer a Mac, an iPhone, an Android phone, or a Windows computer. So, download your favorite posts and reels and view Instagram without them knowing desktop!
Can I View An Instagram Account That's Blocked Me?
When you search for an account that has been blocked, it will not appear in the search bar. You will also not be able to access postings from the account that has blocked you if you manage to navigate to their profile page.